Welcome to Villa Scopetello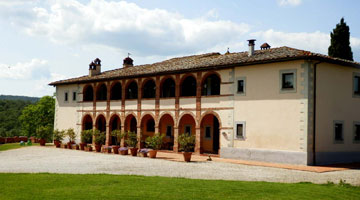 Villa Scopetello....one of the most renowned villas in the heart of Tuscany.
5 secluded hilltop hectares of beautiful traditional Tuscan landscape with olive groves, grape vines, and spectacular panoramic vistas. Whether you spend the day swimming in the pool and soaking in the hilltop views, playing tennis on the private court, lounging around the more than 6,000 square feet in the nearly 700 year old villa, or strolling the cobblestone streets of the nearby medieval villages, Villa Scopetello will greet you each morning with unparalleled beauty and calm.

Situated in the most ideal central location in Tuscany, Villa Scopetello is very close to the "must see" destinations in the region: Cortona, Montepulciano, Pienza, Siena, and Florence, among others.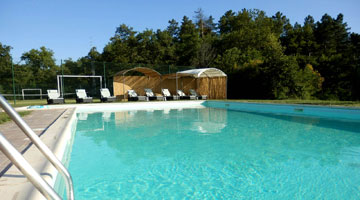 Guests at Villa Scopetello have a once-in-a-lifetime experience which combines the rustic natural beauty of Tuscany and its incredible medieval hilltop towns with the finest of accommodations and amenities. The Villa can be rented for up to 22 people, and consist of 11 bedrooms, 7 bathrooms, 2 kitchens, a huge living room with open fireplace and many other sitting rooms to relax and enjoy the Italian way of life.

The owner of the Villa is world traveled and has modeled the Villa after the favourite features of the hotels and properties he has stayed at all over the world.
History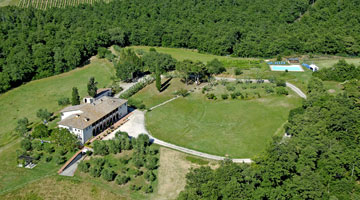 The history of Villa Scopetello is as amazing as the villa itself. Historical documents first mention the Villa in 1331, but Etruscan ruins found on the property suggest that it is even far older than that. The first recorded owner found in documents from the 14th Century was Giovanni di Diagio da Torrita. The Villa then belonged to the father of Pope Pio II, whose family owned the Villa until 1873. In 1971 the Villa was completely restored, and in 2007/2008 it was renovated and the infrastructure was modernized in order to provide guests the most convenient and lovely of experiences.

Come, and create your own history at Villa Scopetello.